A new van!
Since our chapters in Kalisz and Pleszew recently got new vans for their various distributions, Poznan had the doubtful honor of having the oldest transport. Our van was from 2001, and when it was time for the annual vehicle inspection again in December, the message was clear: "Okay, this time you'll get the clearance, but never show me that van again!". Well, a hard life with constantly full loads of 3 tons leaves its marks… So, until December we had time to look for a replacement.
We looked at various sponsor constructions, until a befriended church in Hanover, Germany asked what we needed most when it came to caring for refugees… Well, humanitarian goods, funds for medium-term housing, better transport… Yes, better transport we could manage! What are your requirements? Well, we are grateful for everything, as long as the van will be white! 🙂
Two weeks (!) later Henry, Mario and Jonas brought an only four year old Ford Transit to Poznan, with a mileage of only 60,000, in perfect condition, multipurpose for 8 passengers and/or maximum load, including a full tank at the gas station around the corner!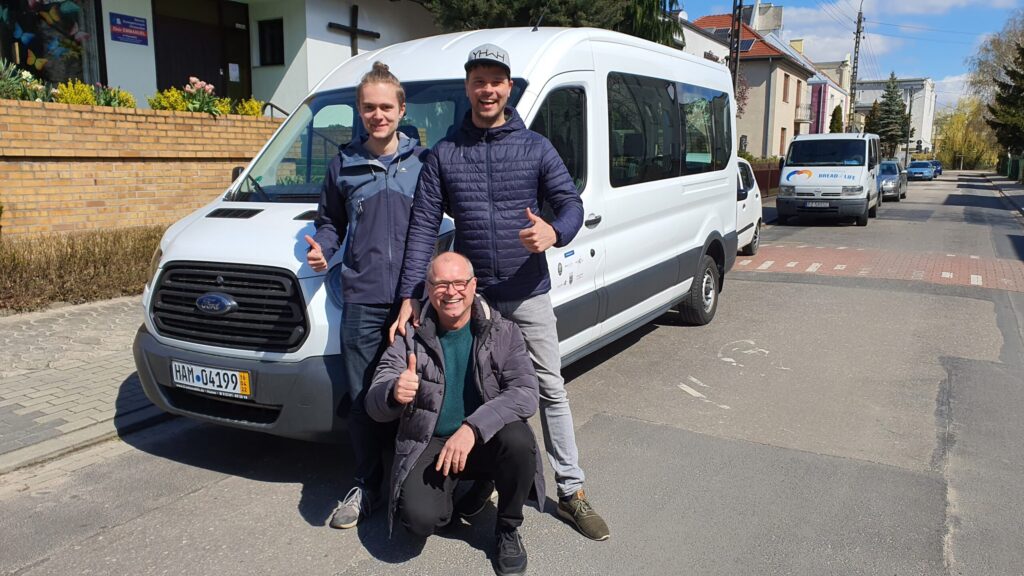 The maximum package of help – All we had to do was formally import the van!
Our gratitude knows no limits, and every transport is now automatically taken to a next level! Yes, including air conditioning. When the van will soon also be wrapped according to our brandbook, it will be Kalisz' and Pleszew's turn again to start saving… 🙂
Dreizechzehn Stadtkirche Hannover, vielen, vielen Dank!