To Lviv with aid supplies and home full of impressions
What should you do with specific donations for aid transport to Ukraine, when also the need for longer-term partners on the other side of the border is growing?
Send a next transport there, or go yourself?
From contact that Bread of Life founders Richard and Brooke had with Jim and Sandy McCann of Joshua Life House Centers in Lviv, the largest city in western Ukraine, confidence grew that we would be able to get such partners with them – with 29 years of experience in Ukraine, an awesome network of contacts further into the country, but also a calling that connects in a wonderful way with much of what we are doing in Poland.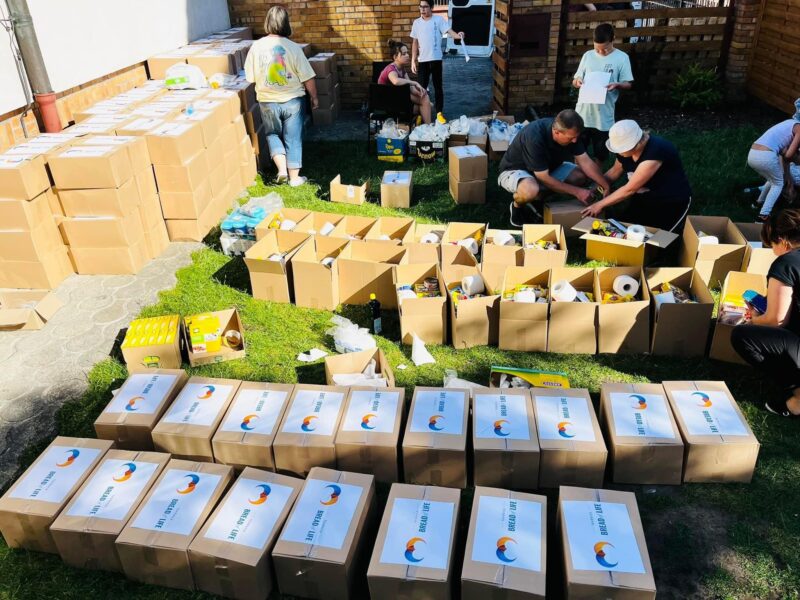 Over four tons of long-life food, to be divided into 300 heavy food packages, about 100 mattresses on cardboard pallets, various individual items… Well, how are we going to do that? And so a relief convoy of the three Bread of Life vans from Poznan, Kalisz and Pleszew came into being, overloaded to what seemed still responsible and explainable, on to Lviv, 50 miles from the Ukrainian border, but 450 miles from us.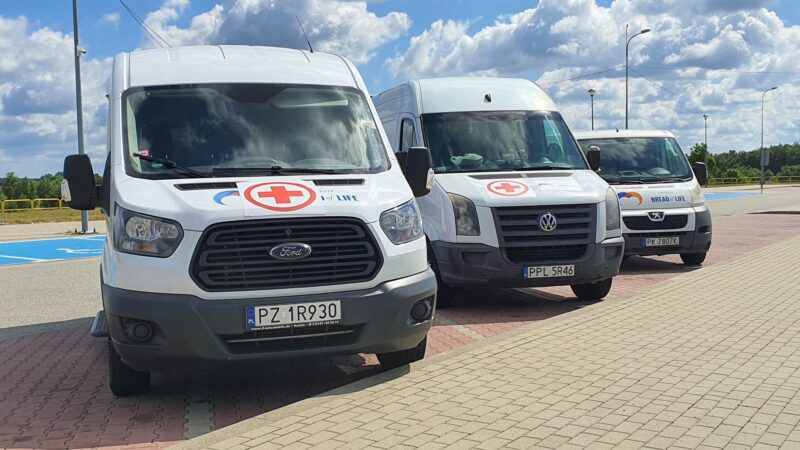 Just a few impressions from the trip:
Sitting alone in a van for hours on end (no, a van is not fast…) is quite boring. Happy with Spotify and YouTube! 🙂
Crossing the border, both there and back, is a lottery. With remarkably friendly Ukrainians, highly controlling Poles, non-transparent paperwork and queues that give you scary visions. The big red crosses on our vans worked wonders, so somehow we could bluntly pass several queues, and while long hours and long days for heavier traffic is the norm, in both cases we were on the other side within about 1.5 hours. A miracle!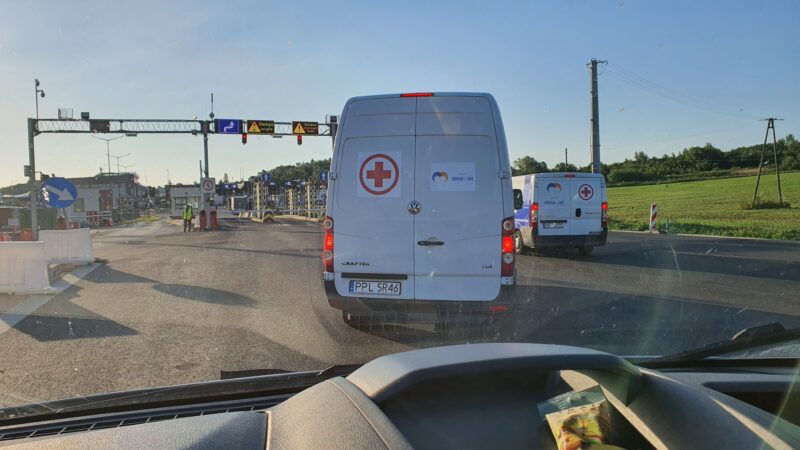 Western Ukraine appears relatively peaceful, apart from many heavily armed soldiers, several roadblocks and extremely little traffic due to a fuel crisis. Almost nowhere is petrol or diesel available, and where there is, we saw long queues.
About 6 hours after we left, as we later understood from Jim and Sandy, there were air raid sirens all over the city again, next Russian missiles were shot from the sky… It is war.
Lviv is a beautiful city! Especially with so little traffic! And with an unreal atmosphere of buskers and grandpas playing chess in the park in front of the famous opera house on the one hand, and sandbags and protection for monuments and soldiers patrolling everywhere on the other…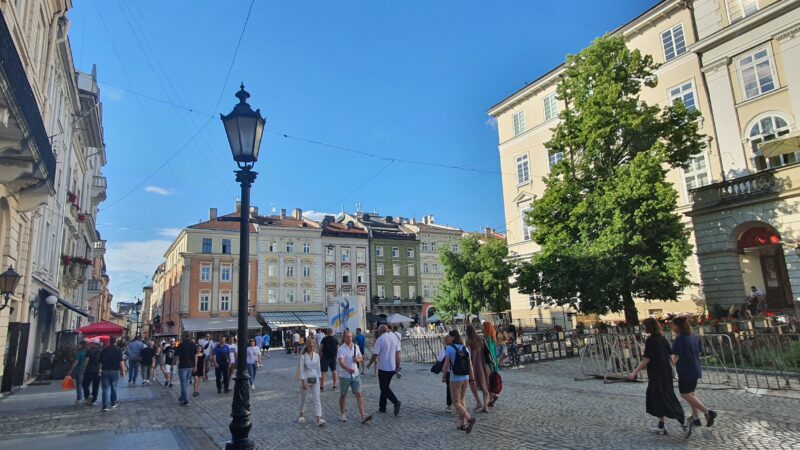 Meeting Jim and Sandy in Lviv was beautiful and encouraging. The unloading of the goods in their premises went quickly, while we were given a tour and saw how a renovation into a reception center for refugees is almost completed. No, this renovation had not started in March… Someone Else clearly took the initiative here.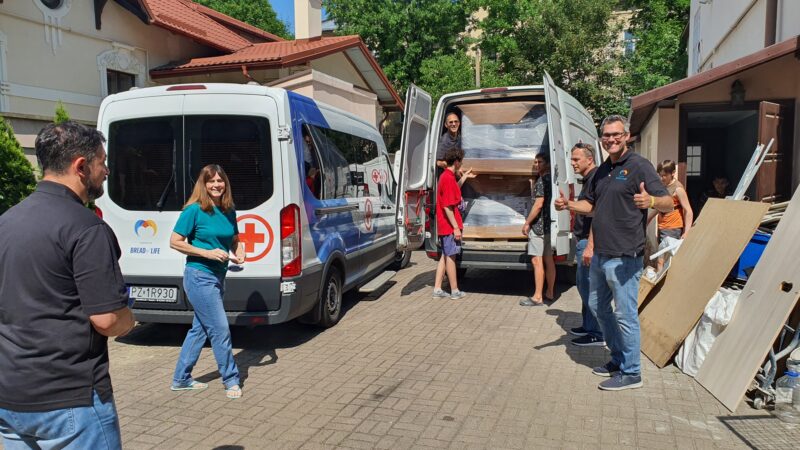 In addition to all the food parcels going to hard-hit villages and suburbs of Kyiv such as Bucha and Irpin, we had the opportunity to personally deliver 50 parcels to a large refugee reception center in the Faculty buildings of Veterinary Medicine of the University of Lviv. That sounds sensible, but the circumstances were shocking. Dorms of more than 100 beds closely together, moldy hallways, hardly any sanitary facilities, and the ones present seemed not to be maintained or cleaned for at least 50 years…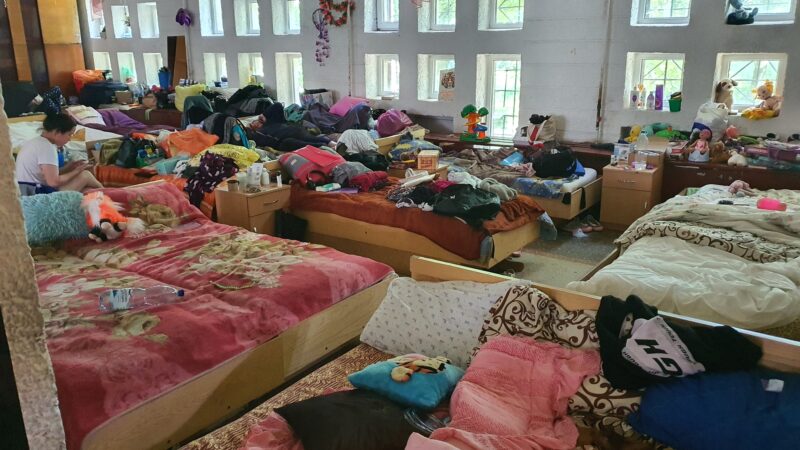 In one of the large dormitories we saw Kira, a girl of about 14 years old from the Lugansk region (Donbas), who had her own drawings on the wall. Words are inadequate here…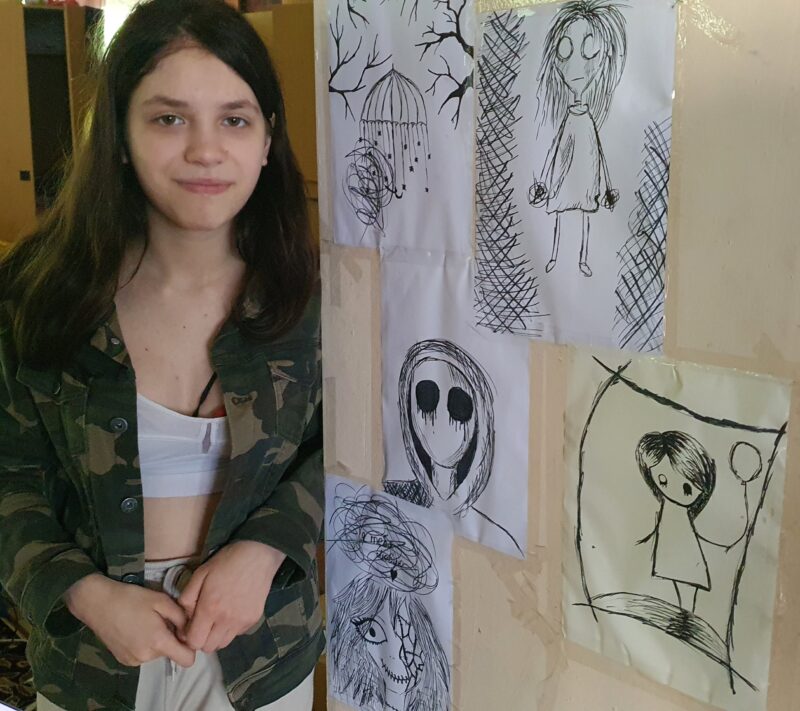 Individually we had the opportunity to distribute packages to various refugees who Jim and Sandy know. For example, I met with a family from Sievierodonetsk, the city in the Donbas where the heaviest fighting is now taking place, and which is currently being razed to the ground… Vitali and Viktoria, their son David with dog Knopka, live in a room of not more than 100 square feet, at the end of that narrow, moldy hallway, and wait. No one knows on what, but I was still happy to share with them that they are not forgotten, to give them a glimmer of hope and pray for God's blessing on them. It was impressive to see how brave they are.
Since we saw the appalling conditions for the many refugees in Ukraine itself, for whom there is actually not much room at all, we are even happier with any help we can offer in Poland. Where there is a chance for a safer and more stable existence. And where we ourselves are encouraged by them!